07 Jun

SWITZERLAND-ARMENIA: 30+ YEARS OF PRODUCTIVE RELATIONS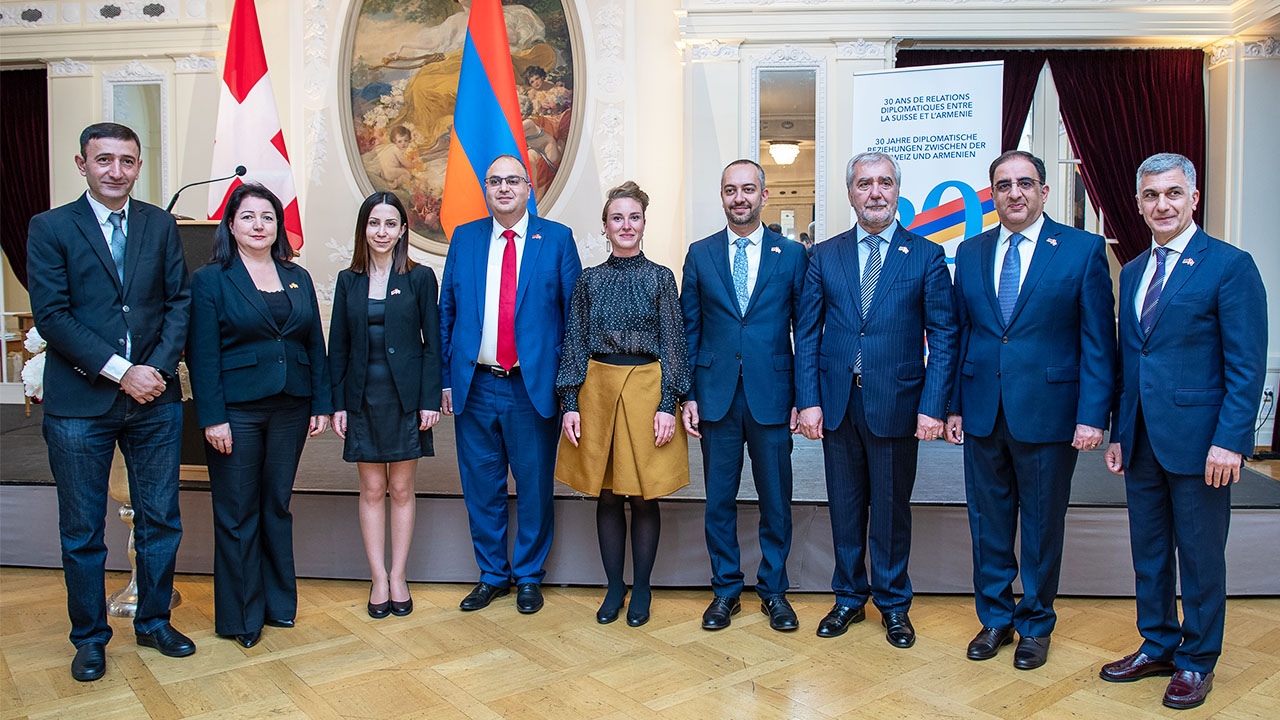 We celebrate the thirtieth anniversary of diplomatic relations between our two countries
In 2022 we celebrate the thirtieth anniversary of diplomatic relations between our two countries.
This anniversary has already been taken as an opportunity to recognize and celebrate the important connection. On June 7, 2022, the Armenian Embassy in Switzerland and the Swiss-Armenian Parliamentary Friendship Group conducted a joint celebration at Bellevue Palace in Bern. A parliamentary delegation from Armenia took part in it.
During the days when the Armenian delegation was in Bern, various meetings were held at the parliamentary level. The Armenian delegation consisted of several presidents of important parliamentary commissions: Foreign Relations, Defense/National Security, Legal Issues and Social Affairs.
Numerous Swiss parliamentarians from almost all political movements, among them the President of the National Council, Irène Kälin, as well as personalities from cultural life, industry and tourism were invited and present.
A highlight of the event was the tribute paid to the former co-president and co-founder of our parliamentary friendship group Switzerland-Armenia. The symbolic award "Mkhitar Gosh" (named after the father of medieval law in Armenia) was presented to the former President of the National Council Dominique de Buman and the former National Councilor Ueli Leuenberger.
Following the laudation by Ambassador Andranik Hovhannisyan, both former members of the Federal Parliament expressed their gratitude. Both expressed extremely positive views about their experiences in Armenia and Nagorno Karabakh.
Dominique de Buman emphasized in his statement the importance of human rights as well as the recognition of the genocide of the Armenian people.
In his speech, Ueli Leuenberger particularly emphasized the right of self-determination of Nagorno-Karabakh under international law.
The Co-President of the Swiss-Armenian Parliamentary Friendship Group, Councillor of States Carlo Sommaruga, recalled the friendship between the two peoples as well as Switzerland's solidarity in the past. A quotation of the former Federal Councillor Giuseppe Motta (1871 to 1940) in connection with his efforts for the "League of Nations" particularly stood out.
Thanks were also expressed by the President of the Armenia-Switzerland Parliamentary Friendship Group, Eduard Aghajanyan, for his support over the years and for recognizing the genocide of the Armenian people.
The Secretary General of the Swiss-Armenian Parliamentary Friendship Group, Sarkis Shahinian, closed the official part of the evening with his speech on the huge potentials of cultural and political cooperation between the two countries.
The event gave the attendees the opportunity to meet Armenians in Switzerland, who had come from all parts of the country, as well as Swiss friends of Armenia, and to exchange ideas with each other.
A video about Armenia (history, medieval and contemporary architecture, archeology, art, nature, geology, leisure, gastronomy and viticulture) completed the event.